"Your food shall be your remedy."
Hildegard of Bingen's ancient medicine, based on holistic principles, brings together spirituality with science and nature, aiming to transform negativity into positivity and sickness into health. In Liber Divinorum Operum, her final visionary text, Hildegard notes four pathways of holistic healing: bodily healing with nutrition and natural remedies; the thirty-five spiritual healing elements of the soul; harmony with the four cosmic elements and "oneness" with the divine 
These medieval recipes are selected to provide inspiration for your own healing practices. Visit St. Hildegard and her Medicine to read about the remedies and their preparation in full.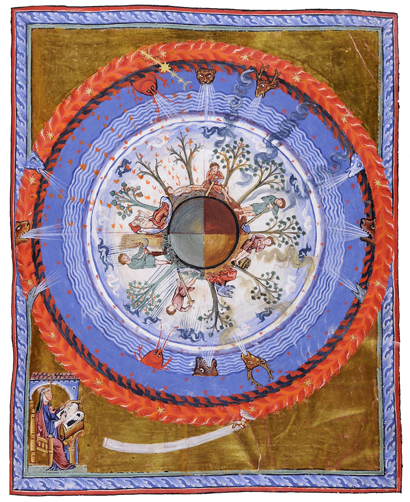 Vermouth Elixir
This elixir is said to boost immunity and improve digestion by stimulating saliva and stomach acid. It also helps mood, fatigue and circulation. Boil vermouth (ideally from spring plants cut early in the morning during the full moon), wine and honey and drink a shot before breakfast on an empty stomach. 
Jasper Plate
"If there are bouts of pain in the heart or on any other parts of a person, place a jasper on this place and hold it there so that it gets warm and the pain will be relieved." Hildegard of Bingen
The precious stone jasper is a universal remedy for the heart and should be placed on the skin over the heart or where the pain is located. As its vibrations are similar to those of the heart, when placed cold on the skin, it balances excess energy from an anxious, agitated heart, becoming warm in the process. Bad dreams, stress and concentration can also be helped. 
Psyllium Cookies
"They bring joy into a troubled heart and make us happy..... They procure cheerful spirits by virtue of a good digestion and fortify the health of the mind with their harmonizing effect." Hildegard of Bingen
These psyllium—also known as fleaseed—cookies are good for healthy and efficient digestion for a healthy gut to improve depression and sadness. Best made with spelt, Hildegard's most healing ingredient, other ingredients include common baking supplies such as raw sugar, sunflower oil, eggs, baking powder, citrus peels, cinnamon and nutmeg. 
Parsley Wine 
"Whoever suffers from pain in the heart, spleen or side, drink this wine often (daily) and it will heal him." Hildegard of Bingen  
A delicious aperitif, this parsley wine is a remedy for stress, circulation and nervous issues, and is simply made by boiling wine, honey and parsley. 
Meum Pear Honey
This "Hildegard gold" promotes a healthy gut and was considered by Hildegard to be more valuable than gold. Blend cooked pears with skimmed honey and meum powder, decant into sterile jars, and take three times a day. 
These recipes are intended as inspiration only: seek professional medical advice for any signs of sickness. 

See also:
Spring Cleaning Tarot Spread by adrienne maree brown: Ask the cards for guidance on how to work in harmony with the enlivening energies of spring.
Spring Equinox: Magical Plants for Healing, Balance and Immunity: As well as seeding and nurturing plants, now is an important time to enhance your self-care for the days and weeks ahead through ritual, intention-setting and clearing your energy.
Soji: A Meditation on Zen Cleaning: "In Japan, cleaning is called 'Soji' and valued as a way to cultivate our minds. In fact, Soji is beyond mere cleaning. Buddhist monks in a monastery put more time into practicing Soji than into practicing Zen meditation." 
Daily Practice Guide: The establishment of daily practice, a devotional rhythm in life through ritual and routine, is the bedrock of a magical practice. Dedicating yourself to such a practice can benefit your consciousness, health and general well-being. 
No Future: The Tower by Johanna Hedva: "Crisis is perhaps the most generative thing of all—the forest fire necessary for new growth—for how many of us change unless we are forced to?"
Lunar Shift Tarot Spread: This tarot spread by Sabrina Scott guides you to connect with the moon's cycles in order to release old patterns and make space for new blessings.